Today I have a new book out in Germany! The Treasure of Tea Towers is published by Klett Sprachen and fully illustrated by Andrew Smith, who also designed this beautiful cover!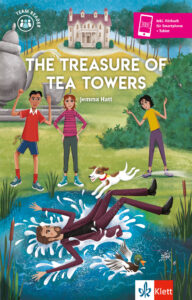 As part of Klett's 'Team Reader' series, The Treasure of Tea Towers was written to help German schoolchildren at all levels to learn English in a fun and exciting way!
The story follows Ella, Alicia and Rohan as they discover a mysterious letter in the attic, providing clues to a hidden treasure at Tea Towers – a derelict mansion once owned by the wealthy founder of a chain of tea shops.
Further information about the book is available here.