I'm so pleased to introduce Secrets at No.6, the first book in my Mysterious Mansions Series! It will be available on 25th April in paperback, eBook and audiobook.
Check out the beautiful cover art by Andrew Smith: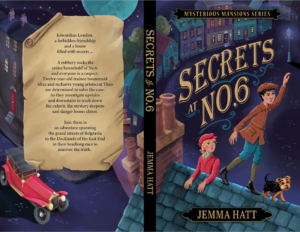 Edwardian London, a forbidden friendship and a house filled with secrets …
A robbery rocks the entire household of No.6, and everyone is a suspect. Twelve-year-old trainee housemaid Alice and reclusive young aristocrat Theo are determined to solve the case. As they investigate upstairs and downstairs to track down the culprit, the mystery deepens and danger looms closer.
Join them in an adventure spanning the grand streets of Belgravia to the Docklands of the East End in their headlong race to uncover the truth.
Signed and dedicated copies are available to order in my website shop (for UK customers). If you're outside the UK, please send me a message through the contact page and I will calculate your postage to pay by Paypal.
The paperback will also start to pop up on retailer sites for pre-order over the coming days … it's currently on Amazon, Waterstones, Barnes and Noble and Book Depository.
eBooks can be pre-ordered on Amazon, Kobo, Apple and Google Play Books.
Audiobooks will pop up for pre-order from some sites, but I'll send all of the links to my newsletter subscribers on publication day.
I'll be sharing more details over the next few weeks to introduce my new characters, setting and first chapter. I'll also share a sample from the audiobook – Ciaran Saward has returned to narrate it; he did a fantastic job with The Adventurers! Keep up-to-date through my newsletter (sign up for free at the bottom of this page) and also my Facebook, Instagram and YouTube pages.
That's all for now – happy adventuring!
Jemma
PS The Adventurers will return later this year!